426 Alvarado St Monterey, CA 93940
Artisan craft beer and New American cuisine in a casual setting
489 Alvarado St Monterey, CA 93940
Serving breakfast and lunch in Old Monterey since 1985
622 Lighthouse Ave Monterey, CA 93940
A California twist on an island classic, serving great food and cool cocktails
479 Alvarado St Monterey, CA 93940
Food, drink, and nightlife
738 Lighthouse Ave Monterey, CA 93940
We have the best and tastiest half pound burgers. We support local musicians and dancing.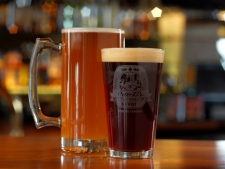 2 Portola Plaza Monterey, CA 93940
Award winning craft beer and innovative comfort food
368 E Campbell Ave Campbell, CA 95008
Comfort food served tapas style. Food, beer, wine and cocktails all served as flights.
794 Lighthouse Ave Monterey, CA 93940
BBQ, sandwiches, and cocktails
434 Alvarado St Monterey, CA 93940
Fresh Homemade Food and Award-Winning Desserts